14 Apr
Gwyneth Paltrow has been getting a lot of press lately for My Father's Daughter, her new cookbook. A lot of people seem pretty steamed that Paltrow would write a cookbook. I'm not sure why: the celebrity cookbook is hardly a new idea, and Paltrow's been moving towards this realm for years now with her GOOP e-newsletter. Yes, this book can be annoying at times, like Paltrow herself. But I think she knows she's got this annoying, unrelatable streak, and I think she's genuinely comfortable with it. She's not fake, but she is Hollywood royalty, she is friends with Beyonce and Jay-Z, she does have two wood burning pizza ovens in two of her homes in Long Island and London. The matter at hand, though, is that her cookbook's full of good, sensible recipes and smart tips. It tells you how to dress up recipes for company, make them vegetarian or vegan, replace processed white flour with more healthy alternatives, and make recipes kid friendly for people who eat like kids (people who eat like kids, by the way, can be any age).
Sounds a little like How to Cook Everything, no? I'm not saying My Father's Daughter is as good, or that Paltrow will be replacing Bittman as my culinary idol, but I do think that if a few people buy this cookbook out of some misguided admiration for Paltrow and end up making the recipes in it, that's a good thing. It's a solid place to start if you want to make more recipes in the kitchen, and it's at times more entertaining than How to Cook Everything, because while you're reading it and using it, you can also make fun of Gwyneth Paltrow, a favorite pastime of many. Or you can admire her, if that's your thing. Either way, it's a pretty useful and fun cookbook. It's occasionally unintentionally hilarious. What's wrong with that? As I see it, with this cookbook, Paltrow is using her cult of celebrity for good, not evil, and I think that's really cool.
That said, despite my defense of Paltrow and My Father's Daughter, I can't say I've had success with its recipes. The recipe that immediately jumped out of me while paging through the volume was Ten Hour Chicken: a chicken is left in a 200ºF oven for 9 hours (i.e. throw it in there on your way out the door to work) and then blasted at 400ºF for a few minutes, carved, and served. Figuring the dish was so plain, and heeding Paltrow's on call for sustainably raised poultry, I went out to the Greenmarket in Tompkins Square Park and bought myself a small $12 chicken.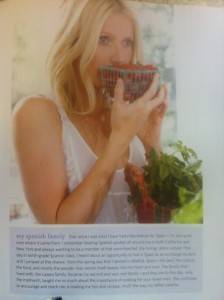 Maybe this chicken was too small (just over three lbs.) or maybe my oven was too hot, but 9 hours later the chicken looked like it had been used to make stock (not surprising, since this recipe is so close to my preferred stock making method). When trying to turn it over for the final step, it completely fell apart. The flesh was mushy and lacking flavor, again, like leftover solids from stock. Still, Jeffrey Steingarten said it worked when he made it, so I'm not sure what happened here. Maybe I ought to try again, or try my hand at some of the other recipes.
In any case, I stand by my defense of this book: what could have been a lame vanity project turns out to actually be a smart, sensible cookbook filled with doable recipes and lots of good advice. If the idea of it turns your stomach, it's not for you. That's fine, but if you're intrigued, I think it's worth the cash.
My Father's Daughter: Delicious, Easy Recipes Celebrating Family and Togetherness [amazon]