31 Aug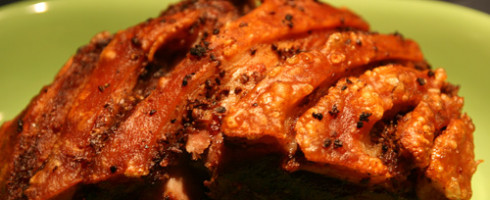 This past August, my parents rented a lovely place upstate in the Hudson Valley and generously invited me and my boyfriend Michael, and my brother Jonathan and his fiancee Eva, to come visit as much as possible. Boy, did we take them up on that. One night, it was just the four of us without the parents, and when Jonathan invited his friends Mikey and Nicole to come over for dinner, I knew we had an excuse to go all out and make something special, something our parents would never go for . We settled on pernil, the slow-roasted Puerto Rican pork shoulder. We planned on using Joshua Bousel's version of the recipe from his grilling column on Serious Eats. I called up Fleisher's in Kingston, New York, a finalist for Happiest Place On Earth, and placed an order for the pernil, which is often sold as a picnic shoulder (it's the lower part of the shoulder, with skin on and bone in).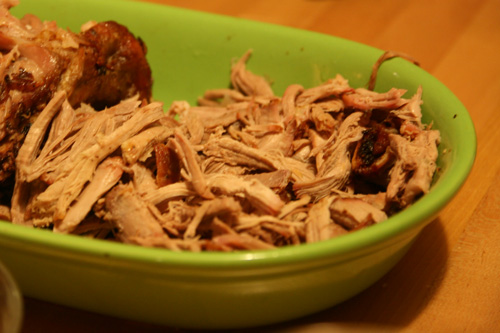 When my brother went to pick up this beautiful hunk of meat, the woman behind the counter suggested that we score the skin, rub salt and herbs all over the thing, let it sit overnight, brush off the salt, marinate for a few hours, roast in the oven at 400 degrees for an hour to crisp the skin, then finish on an indirect, low grill for 3-4 hours. This differed a bit from the original plan. Always one to trust the butcher, especially at a mecca of fine meatstuffs such as Fleisher's, I decided to follow this recipe, borrowing from Bousel's.
After a total of about 5 hours on the grill (plus one hour in the oven to start), the thing was just shy of falling apart tender, salty in places and just plain porky in others, absolutely perfect served with a drizzle of mojo sauce or just some lime juice–something bright and tart to cut the richness of the meat. Hands down one of the best things I've ever made. Click "Read More" for the pernil and mojo recipes.