31 Mar
I couldn't get any sleep last night. I was too full. And even when I closed my eyes, memories of dinner at M. Wells were burning too brightly in my brain to get any rest. The restaurant has gotten a lot of press lately, including this rave from Ed Levine at Serious Eats. You may know the story: Chef Hugue Dofour, an alum from Au Pied Du Cochon in Montreal (another source of one of the best meals of my life) and his wife Sarah Obraitis (formerly of Heritage Meats) have renovated a diner in Long Island City and been serving lunch/brunch for almost a year but recently started serving dinner three nights a week. Their menu is unlike anything I've ever seen before, and the restaurant has a casual, genuinely friendly vibe. 11 of us ate together to celebrate my friend Jen's birthday (you may remember her from the pork CSA we shared). Last year on Jen's birthday we were being brutalized and delighted at the Chef's Table at Brooklyn Fare, so this was a change of pace, but certainly no less memorable a meal. And I was allowed to take pictures! Check them out and more on M. Wells after the jump.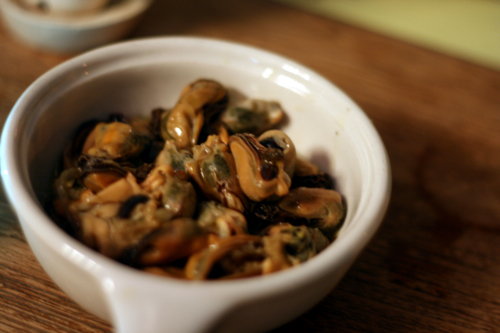 11 is a sizable group, and we knew we all wanted to share as many dishes as possible and that there were no picky eaters among us (everyone ate everything save for one vegetarian, and the staff were greatly accommodating to her though I wouldn't exactly call this place vegetarian friendly–vegans, forget about it). We let the kitchen send out whatever they liked, along with a few specific requests. This is a great way to eat at M. Wells: the staff didn't seem to mind, in fact they seemed to be enjoying curating our meal as much as we enjoyed not having to worry about which dishes to order. In fact, everyone at M. Wells was just downright nice: no pretension, despite the fact that everyone there must know they're serving the most exciting food in New York right now.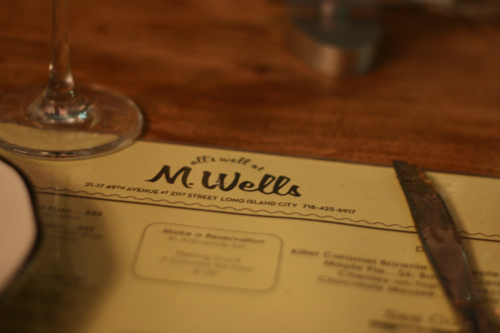 First off, as soon as we sat down, we had a plate of smoked mussels. The kitchen has a Peking duck smoker, and as you find yourself doing when you've got access to a Peking duck smoker, they're smoking a lot more than duck. The mussels were swimming in a garlicky olive oil. A smoked mussel is not like anything I've ever had before. It tastes, well, like a mussel that's been smoked. The gentle heat leaves them tender while the smoke imparts a nearly bacony flavor. They served them with fresh potato chips seasoned with… I don't know what. It reminded me of store bought BBQ chips, but much much tastier.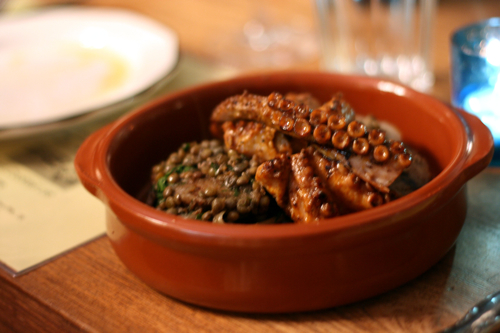 We started with a dish of octupus, fresh and tender and served over lentils. In the lentils was sausage–the waiter said it was some kind of skin crackling sausage or something like that. Freaking delicious.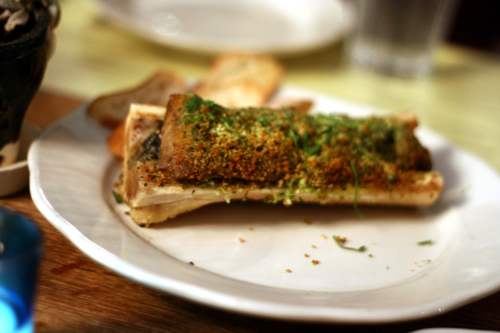 Bone marrow and escargot comes served in the bone, cut lenghthwish (pictured up top) and looking like a prop from a Guillermo del Toro film. The hunks of marrow can be eaten plain or spread on toasty bread with the escargot. Somehow, a dish of escargot and marrow seems the furthest thing from fancy. The ceasar has a similar ethereal look to it, wearing a thick coat of grated pecorino. This caesar is better than any caesar has the right to be, the dressing flavored with rich, salty smoked herring. It was my favorite one dish of the night. The caesar salad! How is that even possible?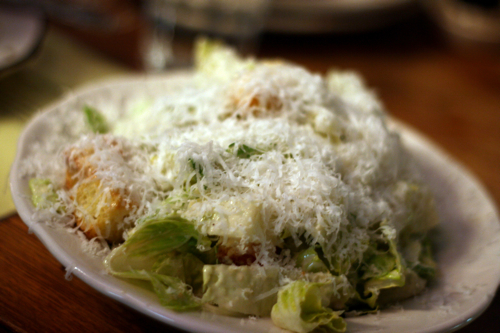 There are bad ideas on this menu that somehow turn out to be not just good but memorable, original, thrilling. Take the $42 burger: gargantuan, looking like some horrid episode of Man Vs. Food, and yet it's delicious, easily split into ten pieces with plenty to go around. The meat is cooked rare, and has so much flavor that the bun, seeped through with juices, becomes practically the best part. The onion rings on top are perfect, thick and crispy and kept in place by a steak knife speared into the burger's mass. More on that burger at this post on A Hamburger Today.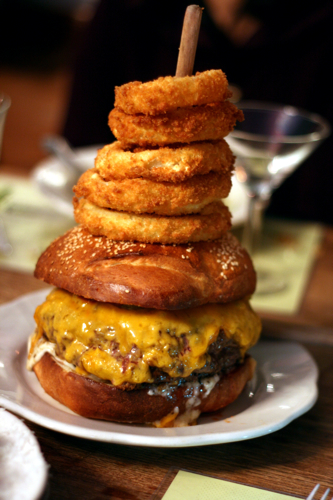 Another idea that's bad on paper but great on the table is BibiM Wells, a take on korean bibimbap that has oysters, scallops and razor clams along with julienned vegetables. It's strange and fantastic, the textures and colors and flavors playing off of each other in a hundred different ways.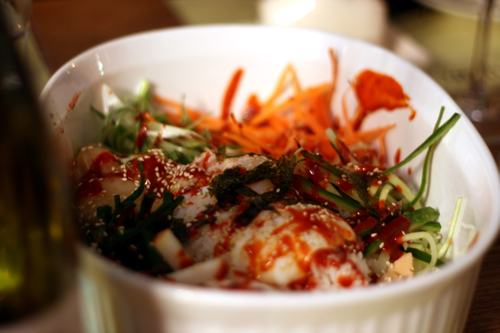 Butter chicken on an english muffin (below), a pizza topped with tender lamb tagine (below that), strange/fantastic is kind of the theme here. A dish of a whole pike, served in a thick spicy sauce that had crawfish in it (I'm sorry details are escaping me, it was al something of a blur).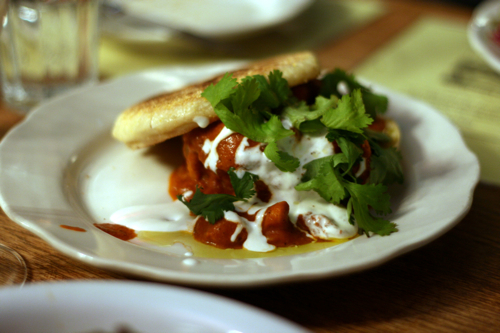 The staff, since they adore Jen (she's been eating lunch there on a nearly weekly basis from the start), brought us over one of each desert as well. They were good, but I was far too full by then to have more than a nibble of each.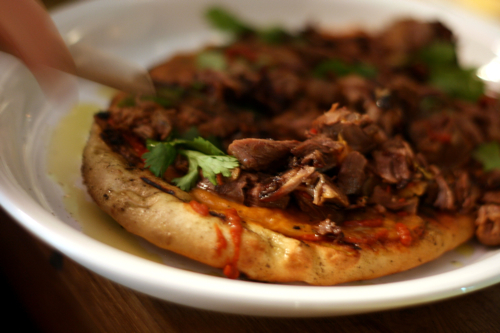 This sounds overly sentimental, but I truly felt transported at M. Wells last night. It wasn't Wednesday night, and I wasn't facing work the next day. I was on vacation. I was eating the kind of meal that you have to travel for, because nothing in New York City, even in Queens, could possibly be this far out, inventive, radical, exciting, different and perhaps most shockingly, cheap. Yeah, cheap. Did I mention how reasonably priced this place is? Just go to M. Wells, immediately.
Now if you'll excuse me, I'm trying to shake the longest food coma of my life so far–12 hours later and I am still full.
M. Wells Diner
21-17 49th Avenue, Long Island City NY 11101 (at 21st Street)
718-425-6917
mwellsdiner.com