7 Aug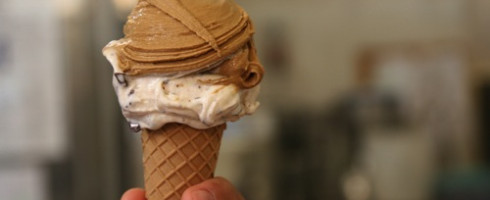 Dusting off the ol' blog to write about some things that I ate in Florence and around Tuscany last month. Or, 2 months ago. July 16th-20th, 2014. Michael and I were there for about 5 days at the end of July. Below are some of the highlights. Bear with me, because this is kind of long, and it's kind of also the travel journal I was too lazy to keep up with while we were on the road.
The first day we arrived, after checking into our awesome apartment (Thanks, Airbnb!) we walked from our apartment on the south side of the Arno, near the the Pone alle Grazie, to Sesto, or is it Se.sto or Se.Sto, who cares really, the point is it's a hotel bar on the roof of Florence's Westin hotel, on Piazza Ognissanti. The cocktail I had was fine, as I recall, but I don't even really recall what was in it. The point at Sesto is the view. We were jet lagged and exhausted but it was hard not to feel pretty awake seeing Florence from above for the first time.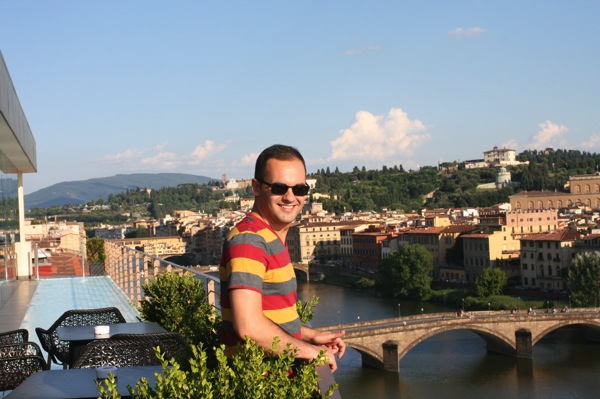 Sesto was also our first experience with one of my favorite Italian customs: the apertivo. Basically, happy hour drinks cost a little bit more than they do the rest of the time, but for your extra few euros, you get a snack. And don't know if you know this about me, but I love snacks. Sesto had a pretty good selection: some speck, some cheese, some tomatoes and mozzarella, cold pasta, eggplant, and other stuff. Frankly it was all just okay, but still. I could get into this.
After our drink, we walked back across the Arno, and headed to dinner at Osteria del Cinghiale Bianco, a place that was recommended to us by my friend and former MoMA colleague Chiara. Oh man. First glass of Italian wine. I think it was Brunello. The thing was, everywhere we went, the wine was cheap, delicious, went well with everything, and there wasn't a decision to make. Which I mean in a good way. "Glass of red" was all it took to get something really delicious to drink. Getting a glass of tap water wasn't as easy, but it's a tradeoff I'll take.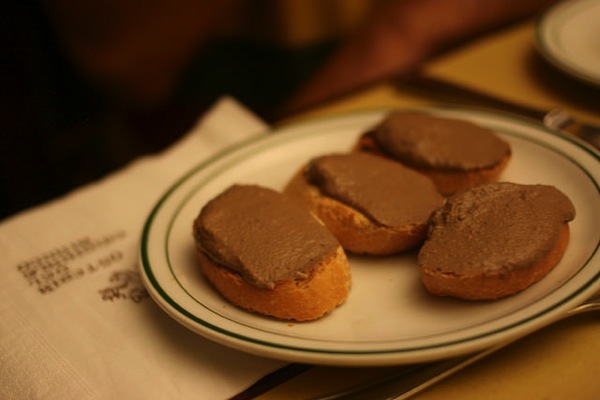 Okay, so, we started with chicken liver crostini, quite possibly the best chicken liver mousse (is mousse the right word when you're in Italy?) I've ever had.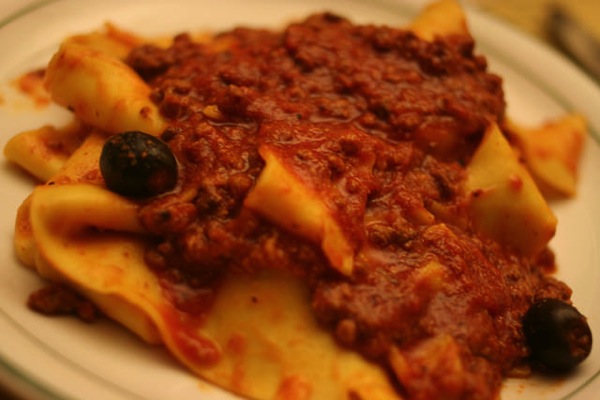 Then I had papardelle with wild boar ragu and Michael had roasted baby pig. Both were exceptional. We also shared a plate of mixed grilled veggies: tomatoes, peppers, zucchini and eggplant, just barely cooked to get some color on the grill and then doused in the sweet, fruity olive oil showed up at every good meal we had. We sat in the front dining room, which was full of locals and tourists alike. It was a perfect first dinner.
After dinner we used Elizabeth Minchilli's Eat Florence app to find some good gelato nearby. Before I left I downloaded this app that's loaded up with Minchilli's picks in Florence and was a little disappointed with it trying to browse while at home, but once we hit the ground in Florence, it was clear that it was $2.99 well spent. Anyway, it led us to Gelateria della Passera. I had Chocolate and Orange (one flavor), which was some of the deepest darkest chocolate I'd ever had, with bits of candied orange peel. We were totally fried, so we went home and tried to sleep, though the jet lag made it hard.
The next day was our big Florence day, our only full one to spend in the city. We woke up early, grabbed cappuccinos and cornettos (like a croissant, only sweet, and not really that good?) and a glass of fresh squeezed orange juice at an espresso bar on our way to climb the Duomo. We got there about 20 minutes before it opened, which I think is the way to do it. People talk a lot of shit about the climb, but I think that's just because they've had to wait in a huge line. Anyway, we were back on the street before 10am, and we grabbed another espresso. In this espresso bar we encountered some American college students who were dying for an iced coffee. "Do you have ICED coffee? ICED? COLD?," they asked/demanded of the bemused barista, who spoke perfect English. "WITH ICE?" They seemed unimpressed with the espresso poured over ice, shaken in a cocktail shaker for them. "TO GO PLEASE?" Anyway, it was pretty funny.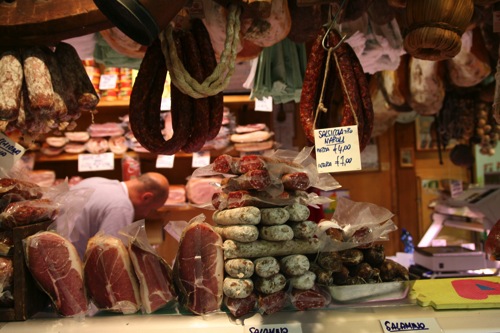 After that we went to the Mercato Centrale, Florence's indoor covered food market. It had a mix of really amazing produce stands, butchers, cured meat place, cheese shops, dry goods, everything really. There were also a few places designed just to cater to tourists, but we were able to mostly sidestep them. I tried to control myself from buying too much stuff that I'd have to lug around for the rest of the trip. And, maybe this is a New York-centric view of things, but I really do believe that I can get most anything I need across the street from my office at DiPaolo's. I did grab a vacuum sealed dried finocchio sausage to bring to Paris with us, where we were meeting up with my parents, brother and sister-in-law for the 2nd leg of our trip (stay tuned for that post). Spoiler alert: it was really, really good.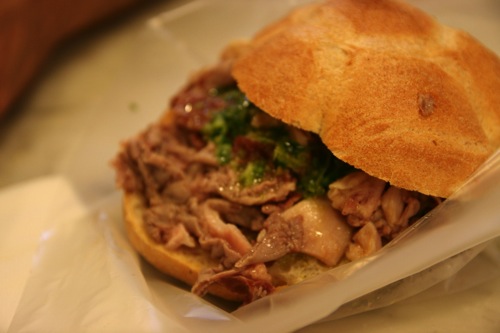 While we were at the market, we grabbed a sandwich at Da Nerbone, another Minchilli recommendation. We got the trippa (tripe) sandwich, served on a roll with a splash of really garlicky pesto. There's also a spicy sauce they can put on it, but I skipped it (Michael's not a big spicy guy). It was really, really good, and I'm not a big fan of tripe. Here it was cooked until falling apart tender. It really reminded me of very fatty brisket more than anything else, with a slightly more bouncy texture.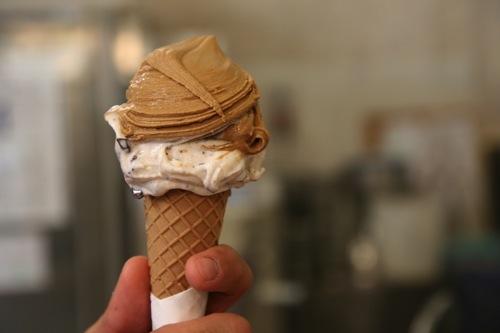 After that (and a gelato break) we headed to our reservation at the Accademia, to see Michaelangelo's David (worth the hype), his unfinished Prisoners (also great), and not much else–we decided to just leave after seeing the big guy. Then, since a coworker of Michael's and my friend Anna had both recommended it, we went up the block to the Musee San Marco, which was fantastic. Full of Fra Angelico frescoes, in the rooms that they were originally painted in (it was a monastery). It was quiet and tranquil, a total 180 from the swarm of tourists at the Accademia.
After that we were hungry, so we tried to go to Trattoria Mario, which I had read about and is only open for lunch, but there was a 45 minute wait and we were pretty hungry and getting cranky, so we went to Trattoria Zaza, which had been recommended by Eva, my sister-in-law, who has great taste and lived upstairs from it when she studied abroad in Florence.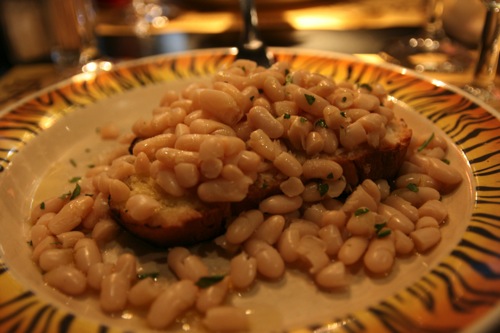 I had Tuscan white beans on a piece of toast, and Michael had grilled cheese on toast. Not a grilled cheese sandwich. Two slabs of cheese, charred on the grill, and served on a piece of bread. It was good, and blew my kinda bland beans out of the water.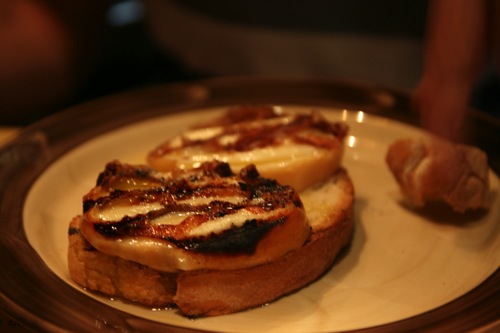 That said: the bread in Tuscany has no salt, and I'm told that it's because of tradition, and harks back to days when salt was expensive and scarce, but man, does it make for some bland bread. Anyway. After that I had a bowl of ribollita, a hearty soup made with scraps of bread, and it was good, but just totally wrong for the super hot day. It tasted like winter. Michael had pasta carbonara, with truffle oil in it, which was really, really good. Perfect if you've always felt like carbonara wasn't rich enough, you know? Just drizzle some truffle oil on it.
After that we headed back to the apartment and took naps. Then we headed back out to grab a drink and apertivo plate at Obika, the mozzarella bar that I think has locations in the states.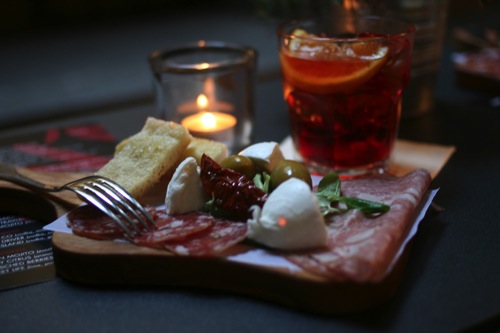 It was classy–the apertivo here is brought out by a waiter, a board of burrata, other cheese, cured meat, some bread, olives, and sundried tomatoes. My negroni hit the spot after a long day of sightseeing. Michael had a couple of insanely sugary cocktails, but he seemed to like them quite a bit.
After the drink, we headed to Trattoria Sostanza, the only reservation we had made for our trip. Yet another place we'd read about on Minchilli's site, and elsewhere. The food was great, but nearly all of the tables at Sostanza are communal, so we were seated with a very nice but too friendly Thai family (parents and two sons in their mid-20's) and a truly obnoxious couple of American guys, that were in their early 20's. In New York, I feel like the rules of the communal table are that everyone tries their best to pretend they're at their own table. Well, 30 seconds into dinner, one of the Thai sons reached out his hand and introduced himself, and from there, it was a long night of forced interaction with strangers. It was touching, though, when the father of the Thai family refilled my empty glass of wine from the bottle they had ordered. The good news is the food at Sostanza was totally pitch perfect. We shared a tortino di carciofa, a big swirling tornado of an egg omelette filled with crispy browned artichokes, perfectly runny in the middle. There's no picture of that–I was so relieved to have an excuse to stop making forced conversation, I just dove in and ate with urgency. Michael had pollo al burro, butter chicken, which was a boneless chicken breast that is (I think) cooked on a flat top until nearly done, then lightly battered and finished in a pan with a stick (at least) of butter.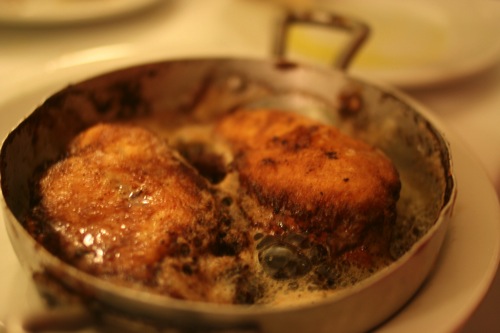 It's served in that same pan, with all the butter, and it's really something special. I had bistecca alla fiorentina. It was perfectly seared and salty on the outside, cooked rare, letting the clean flavor of the meat shine through. It was also enough for two starving people, or maybe three hungry people, but for me alone it was a LOT of meat.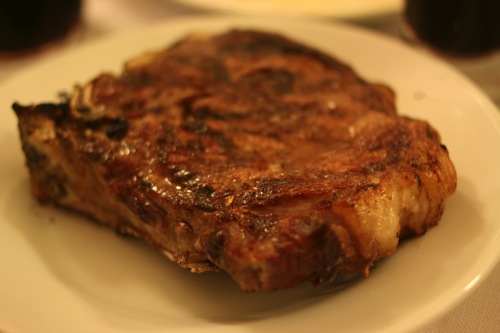 I didn't finish it, but I wanted to. On the side we had an order of radicchio, as it was listed on the menu, but it wasn't the sturdy purple leaves I'm used to. It was more like baby dandelion greens? In any case, it was dressed in just a little of that amazing olive oil that they seem to have everywhere in Tuscany, and it was absolutely perfect for sopping up the juices that came pouring out of my steak. I'm sure that's not what one is meant to do with it, but I have no regrets. Dessert at Sostanza is a piece of cake that really didn't look that good but I ordered while Michael was in the bathroom because it came with these irresistible baby wild strawberries. It was mediocre, at best! We should have just paid the check and grabbed gelato on our way home. Next time!
The next day, we got up really early to catch a bus to Siena, where we'd signed up for a guided day trip from Tours by Roberto. Roberto Bechi's tours are recommended in the Rick Steves book, and he's actually been on Steves' show a few times. We'd signed up for a trip around some Tuscan hill towns. We wanted to get outside of Florence while on our trip, and visit some places that you couldn't hit via train, so this seemed like a good way to do it. It was money well spent. The first stop was an Etruscan archaeological museum, which was not our favorite. Stop #2 was meant to be an organic farm where we'd have lunch, but the woman who owns the farm and cooks lunch had her appendix out that very morning, so at the last minute Roberto changed course and took us to Monticchiello, a tiny hill town where we walked around–it looked like a movie set–and had lunch.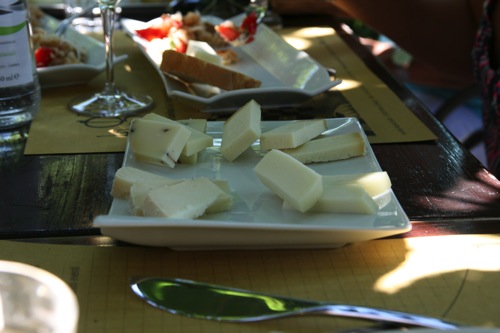 The lunch place was La Guardiola, and we ate outside on their terrace overlooking the Tuscan vista. It was gorgeous. Along with the rest of our group–Michael and I, a couple from Atlanta with their adult daughter, and a young married couple from Texas–we shared a perfect summer lunch of burrata, prosciutto, a plate of four pecorinos of different ages with honey and marmalade, and a panzanella salad. And a glass of red wine. It was a pretty perfect meal.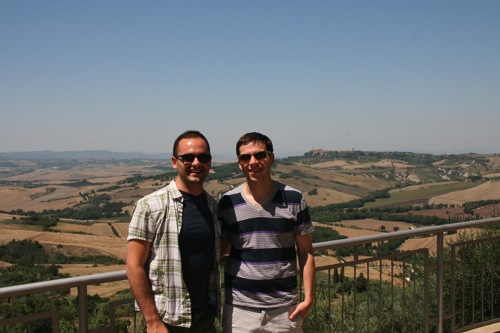 After that Roberto took us to Montepulciano, where we walked around and explored a bit, and he told us about the history of the town. The tour lasted from 9am-4pm, and it was worth every penny. Roberto is equal parts local expert and comedian and quickly made our group feel like one big gang, which I don't think is an easy feat. If you're looking to see some parts of Tuscany that are not easily accessible by train, I would highly, highly recommend booking a trip with Roberto.
After the tour, we decided to spend a couple of hours in Siena. We were pretty tired, but wanted to at least take a quick walk around while we were there. I definitely regret not spending more time there. We grabbed a bite at a touristy restaurant on Il Campo, the main square, which is beautiful and has some of the best people watching in the world. We shared a pizza that could have come from one of the bad Italian restaurants on Mulberry Street in Manhattan, but it was worth it for the location. The culinary highlight of Siena were the riccharelli, little almond cookies shaped like shells and dusted in powdered sugar, native to Siena.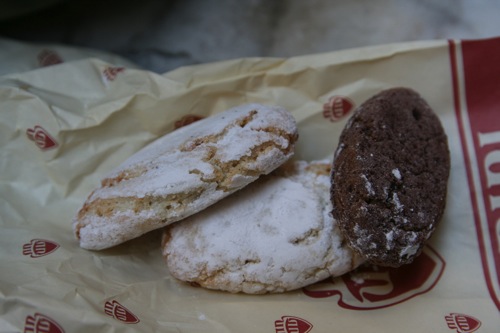 When we got back to Florence, we stopped at Gelateria Vivaldi, a place near our apartment that had phenomenal gelato.
The following day was our last day in Florence, and we got up early and checked out of our room, where I left behind my beloved Kleen Kanteen. We stopped for cappuccinos then headed to the Uffizzi Gallery where we breezed through using the Rick Steves audio guide. After that, we went to 'ino, a panini shop where everything is made from top notch ingredients impeccably sourced.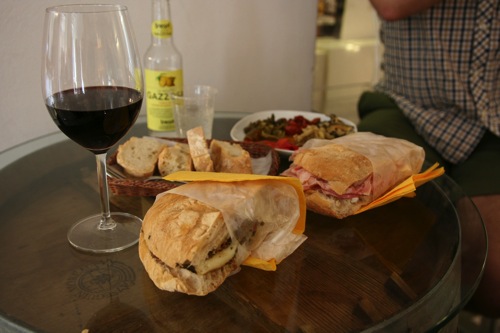 Michael had the Hiro panini, with pecorino al pesto, tapenade, and pomodoro secchi (sundried tomatoes), and I had the special of the day, which featured fresh ricotta, salame rosa, and mostarda peperoni, which was a sort of sweet pepper relish (so good we bought a little jar of it home with us). Rounding out the meal was a plate of pickled veggies doused in olive oil. I wish we'd gone to 'ino sooner in the trip, because then we would've found a way to return before leaving. Each and every of the dozens of sandwich combinations looked divine.
After 'ino, we went around the corner to Carapina, a well respected gelateria. We got a cone of mint and a cone of pecorino, and shared while walking towards the train station to depart for Lucca. The mint was light, refreshing, somehow more like real mint than chewing on a sprig straight from the farmer's market, but the pecorino gelato was a revelation: it was savory, sweet, creamy, with little tiny chunks of real pecorino cheese. It sounds weird, but trust me, you'd like it.
After that we hopped on the train to Lucca, which took about an hour. Lucca is beautiful and quiet and exactly what we needed after so much running around beautiful-but-totally-congested Florence. We dropped our stuff off at the room we'd rented on Airbnb, and headed out to eat some gelato and rent bikes to ride around the city walls. Lucca is tiny, and ringed by these walls that are in pristine condition, and now serve as a big greenway where you can ride bikes–it's about 2 miles in circumference.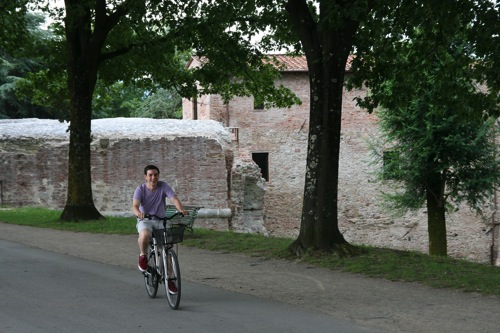 So we rode bikes for a bit, then dropped off our bikes and walked around for a while longer. By then it was time for dinner, so we went to Trattoria Da Leo, which is in every guidebook I looked at but was still full of locals.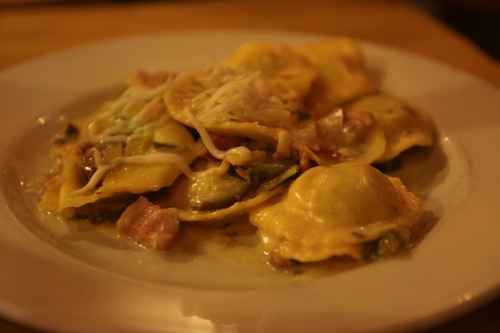 Michael had the tortelli all'afumicata, big meat-stuffed pasta in a creamy sauce laced with smoked cheese and chucks of smoked pancetta. With some zucchini thrown in for good measure.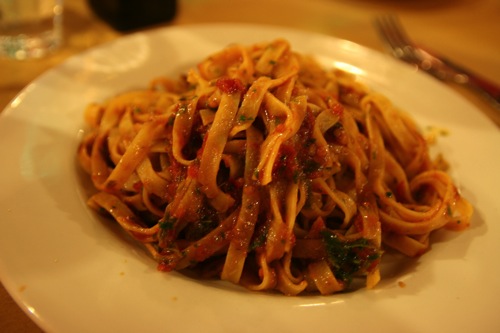 I had tagliatelle alla disperata, which reminded me of puttanesca, a rich tomato-based sauce with lots of fresh parsley, garlic, and chile pepper. I couldn't believe I ate the whole thing. We definitely did not need to then eat a second course, but this was our last dinner in Italy, since we were flying to Paris the next night. So Michael had the faraona al ginepro e aceto balsamico, guinea fowl with juniper and balsamic vinegar. It was tender and rich and fresh all at the same time.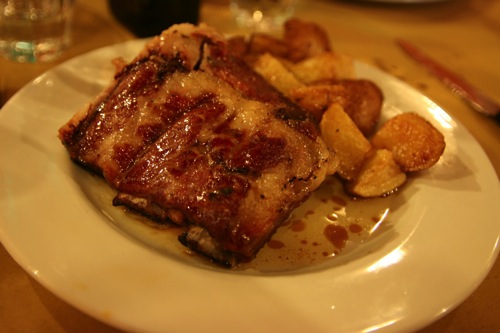 I had rosticciana arrosto con patate arrosto–spare ribs with roasted potatoes. Fatty and greasy and cooked to perfection, tasting of only really good pork. I don't know how to describe it, other than pure porkiness. Once again, I ate the whole thing before I could think better of it. Oh, did I mention that Stevie Wonder was playing in Lucca that night? He was, so we went to see if we could get close enough to hear. We couldn't, but it was fun seeing such huge crowds on one side of town while the other was sleepy and desserted.
The next day, we woke up to one of the most intense thunderstorms I've ever had the pleasure of falling back asleep to. We got a late start, which I think we needed, as we hadn't been getting much sleep and then not taking much time to rest during the day, either. The rain, combined with the fact that Lucca is a pretty small town, made us feel okay getting a slow start. Anyway, eventually we went to an espresso bar near the apartment and spent an hour drinking coffee (two rounds) and eating pastries and doing some journaling. By this point, we'd figured out that we shouldn't be ordering those cornettos, but whatever looked like it might be filled with ricotta.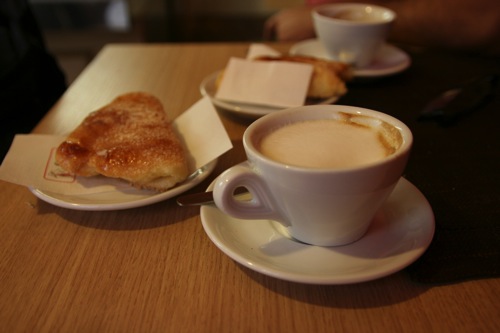 Then we did some sightseeing, climbed Tower Guinigi, which has great views and trees on top, and then stopped for ceccina, which is a chickpea pancake that's served in pizza-like slices.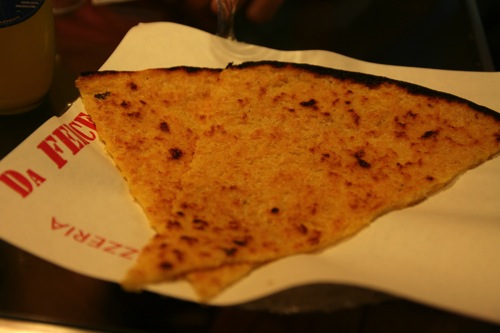 I'm not sure if it's always as greasy as the one we had, but I'm not complaining. It was starchy and salty with that earthy chickpea flavor, and I wish it was popular in New York. Went great with the bottle of aranciata.
Then we went to Grom and split a coffee granita. Oh man, was it good. Sweet, with a real caffeinated kick.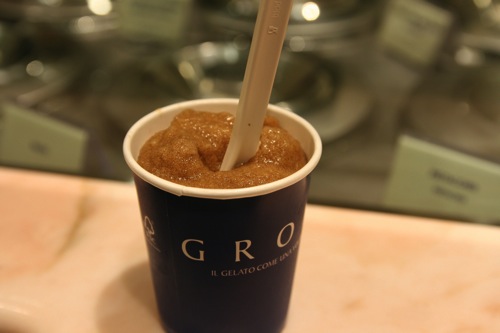 After that we went to Palazzo Pfanner, a museum and former residence. It wasn't something we probably would have done if it hadn't been raining, but we wanted to get inside for a bit, so it got the job done. Then, of course, it was time for lunch!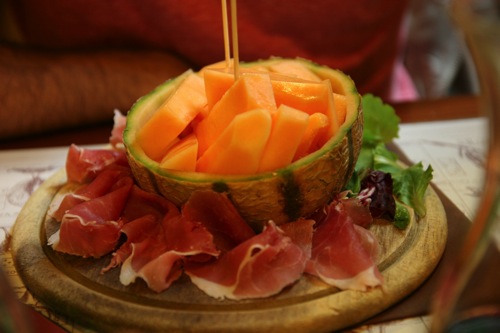 We went to a place near the museum that was in the Rick Steves book, Osteria San Giorgio. Run by a mother and daughter team. It was our last lunch in Italy, so again we each had two courses. Michael had melon and prosciutto, a king-size serving, and both ingredients were perfect, and presented memorably.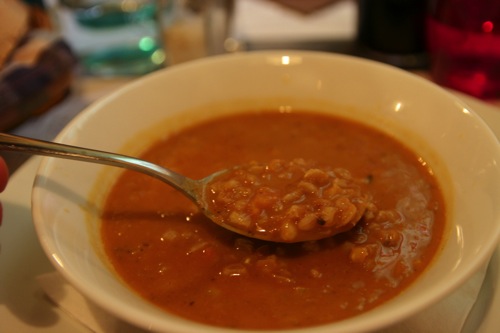 I started with the farro soup that's a specialty in the region, and it was delicious, a thick tomato based broth with tender, almost sweet and buttery grains of farro. Then I had "seafood carbonara," which was mixed seafood–mussels, shrimp, and best of all little clams–with perfectly cooked pasta and plenty of butter.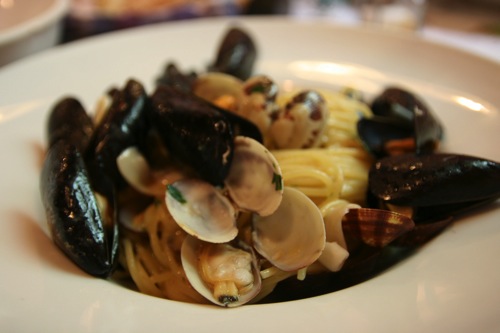 Michael had incredibly rich gnocchi with a butter sauce that had broccoli, or something that used to be broccoli before it totally gave in to the butter, and was somehow dense and light simultaneously.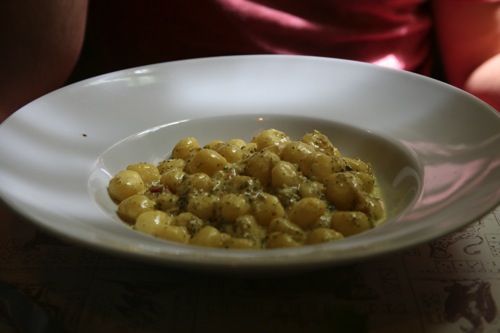 After lunch we had affogato, which we still hadn't experienced, and then it was time to leave Italy. We made the most of our trip, but I think we both feel like we'd go back again in a heartbeat. There's a lot more of Italy to explore, but I'd return to Florence, the Tuscan hill towns, or Lucca in a heartbeat.